PHOTO: Schwarzenegger spends time at home with a donkey and a pony in self-isolation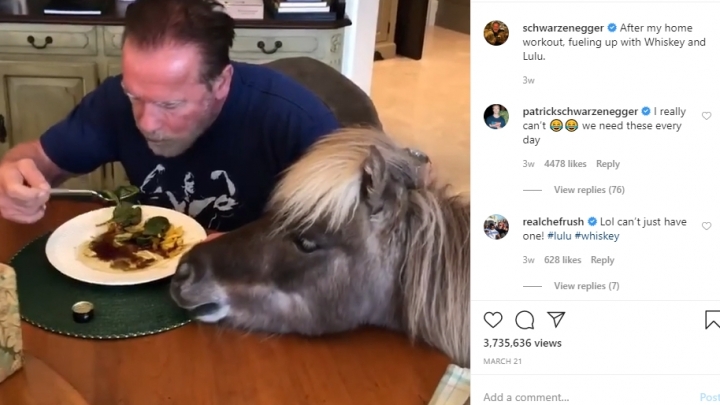 Movie icon and former Calif. governor Arnold Schwarzenegger has stepped up amid coronavirus concerns, becoming the quarantine lifestyle guru we didn't know we needed.
In an Instagram post Schwarzenegger encouraged fans to stay at home and self-quarantine during the coronavirus outbreak. He reiterated California's guidance that anyone over the age of 65 should stay at home for the next few weeks. And the 72-year-old demonstrated that he practices what he preaches, shooting the video in his kitchen.
Arnold Schwarzenegger in self-isolation at home
There are many activities better enjoyed at home. You can binge-watch that series everyone's been talking about, you can finally tackle years of limescale build-up on your tub, or you can pull a Schwarzenegger and feed carrots to your miniature horse and donkey - named Whiskey and Lulu.
"That's what we do. We don't go out. We don't go to restaurants. We don't do anything like that here anymore," he said in the video, before cheerfully exclaiming, "So much more fun than going outside!"
Schwarzenegger even demonstrated a subtle but important principle of quarantine self-care: no matter how tempting it may be to stay in pajamas all day, change into new clothes to maintain a sense of the day.
As a former famed bodybuilder, Schwarzenegger knows that even a quarantine can't get in the way of a workout, posting another update from his bike ride. Also He promised, that he would continue posting workout tips for people stuck at home, encouraging them to stay positive.
Breaking news