Dramatic photos shows sad side of Coronavirus crisis in Ecuador
Missing corpses in Ecuador - where they remain?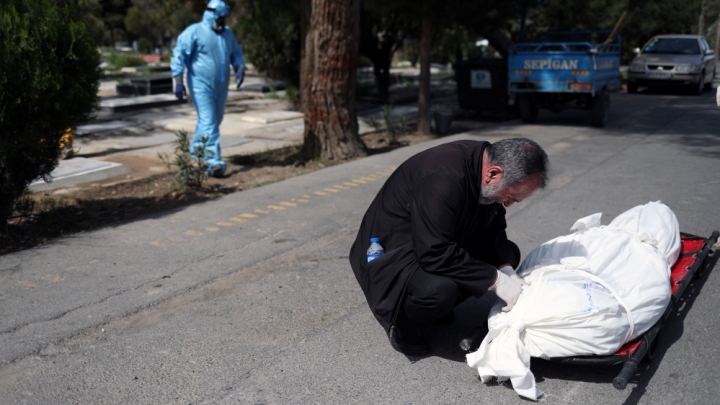 Missing corpses in Ecuador - where they remain?
When Flavio Ramos was wheeled into the hospital room, he was gasping for air and slipping in and out of consciousness. So it was his son, Arturo, who first noticed the bodies.
Two corpses laid unattended on the tile floor. By the next morning, the body count in the room rose to three. Flavio Ramos was dead. More than a month later, his family still hasn't buried Flavio Ramos. They couldn't if they tried. Because soon after his death, Arturo Ramos says hospital authorities lost the body.
"We need a place to say, on Sunday let's go to put flowers on the tomb of my father," his heartbroken son said. "There is nothing, there is nothing you can do." Flavio Ramos, 55, is yet another Covid-19 victim in Guayaquil, Ecuador, the site of one of the world's worst coronavirus outbreaks.
Last month, the port city of nearly three million gained global notoriety when videos surfaced showing dead bodies left in the city's streets after morgues and funeral homes were overwhelmed. Many families made the choice to put loved ones outdoors for fear of infection and because the smells were unbearable.
Dramatic photos shows sad side of Coronavirus crisis in Ecuador. Dead bodies on the streets, families have nowhere to put them
"At one point there were dozens of bodies between the hospital rooms and morgue that were waiting to be taken away," said one doctor. "There were no body bags left."
The rate of death far outpaced the capacity of city morgues and funeral homes. An other doctor told that he usually saw three or four dead bodies lying on the floor each day at the hospital. "We had nowhere else to put them," he said.
Amid the chaos of mounting bodies, disorganization has led to the misplacement and misidentification of those who have passed away. Many families have been unable to say goodbye to their loved ones.
Top officials in President Lenín Moreno's cabinet have publicly apologized for the government's poor response to the pandemic, saying health officials were not ready for an outbreak with such a staggering death toll. The problem of missing remains is so widespread that the attorney general launched an investigation last month into the mismanagement of remains at hospital morgues.
Breaking news