Oh, sexy Maria! You forgot to put on your pants!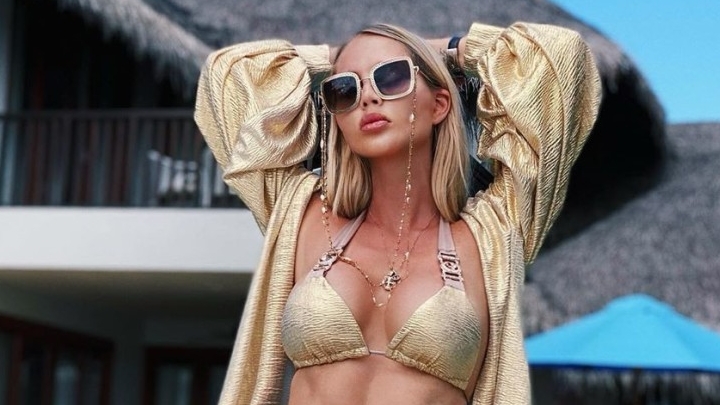 Maria, the wife of football player Pavel Pogrebnyak, said that her entire family was diagnosed with COVID-19.
"My husband went to Yekaterinburg to gather! No symptoms. Nothing that predict the trouble! Upon arrival, we tested him! Pasha is covid positive. Shock. At night the temperature rose to 38, doctors arrived, took him to a CT scan, the diagnosis was bilateral pneumonia," Maria told to her followers.
"The elder son has 37.3 - 37.5, sore throat, weakness. They called a doctor, donated blood, the result was obtained almost immediately! The doctor ordered a CT scan (we went on the same day), the result: pneumonia, the initial stage (left lung). The average son: no symptoms, only the temperature jumped to 38.5, no appetite! The temperature gets off easily with paracetamol! The youngest: temperature 37.3, vomiting, weakness - no pneumonia, passed along with the eldest! There is a sense of smell, appetite, too," wrote Pogrebnyak, specifying that she is asymptomatic.
Footballer's sexy wife Maria with her family
At the same time, Maria clarified that they went out into the street, but did not contact anyone. Maria later said that the coronavirus was proceeding rapidly - the condition of all members of her family, including the instinct itself, worsened. At Pogrebnyak, for example, the sense of smell disappeared and the tonsils became inflamed.
Maria also told how her whole family is being treated: "Our condition on day 6 of COVID-19 disease is much better. We drink antiviral drugs. Those with pneumonia drink antibiotics. "
In the comments under the post, the footballer's wife answered frequently asked questions. For example, Pogrebnyak specified that her sense of smell has not yet returned to her, and that her mother-in-law was taken in an ambulance - 50% of her lungs were affected.
Also, a blonde answered the question why she met doctors without pants. Maria clarified that she was in small shorts - probably they simply could not be seen under the big hoodie. And she also said that she did not expect the arrival of doctors, so she did not have time to change clothes.
Breaking news